You might have heard this so many times before, the money is in the list, and within this post, we will build this list and get you everything you need to know when talking about email marketing for restaurants.
Emails have indeed lost a little of their power for general marketing. Still, when it comes to email marketing for restaurants, they are growing in power to bring new email subscribers into your restaurant and reward your previous restaurant customers.
Emails are a potent communication channel in restaurants. And can help your growth hugely. Better still, you can automate them, so it's very much a set and forget.
This makes email marketing one of the cheapest marketing tactics that too many restaurants aren't using.
Emails can help restaurants increase foot traffic by converting visitors into regular customers.
This guide shows how restaurants use Email systems. Make your customers return for more, spend more money, and refer new customers to your restaurant.
Benefits of Email Marketing for Restaurants
Suppose you aren't setting up an email campaign for your restaurant. In that case, you are simply leaving money on the table, as we continue to state people buy from people, and emails will always help your customer engagement from your welcome emails to the continued use of them.
Email automation is so easy and affordable. Email marketing is a restaurant's best friend for gaining new customers while maintaining relationships with existing ones.
Some of the benefits of email marketing to help your restaurant include:
– 24/h accessibility
– Can be a more personalized way to communicate with customers
– Emails can act as signage in the sense of reminding people about deals they may have seen on your website or by
Best Email Marketing Services For Restaurants for 2022
With the right email marketing service, it is simple to scale to whichever hights you would like your restaurant to achieve, but choosing the correct email marketing service can be tricky, so let's go through which are best for your restaurant.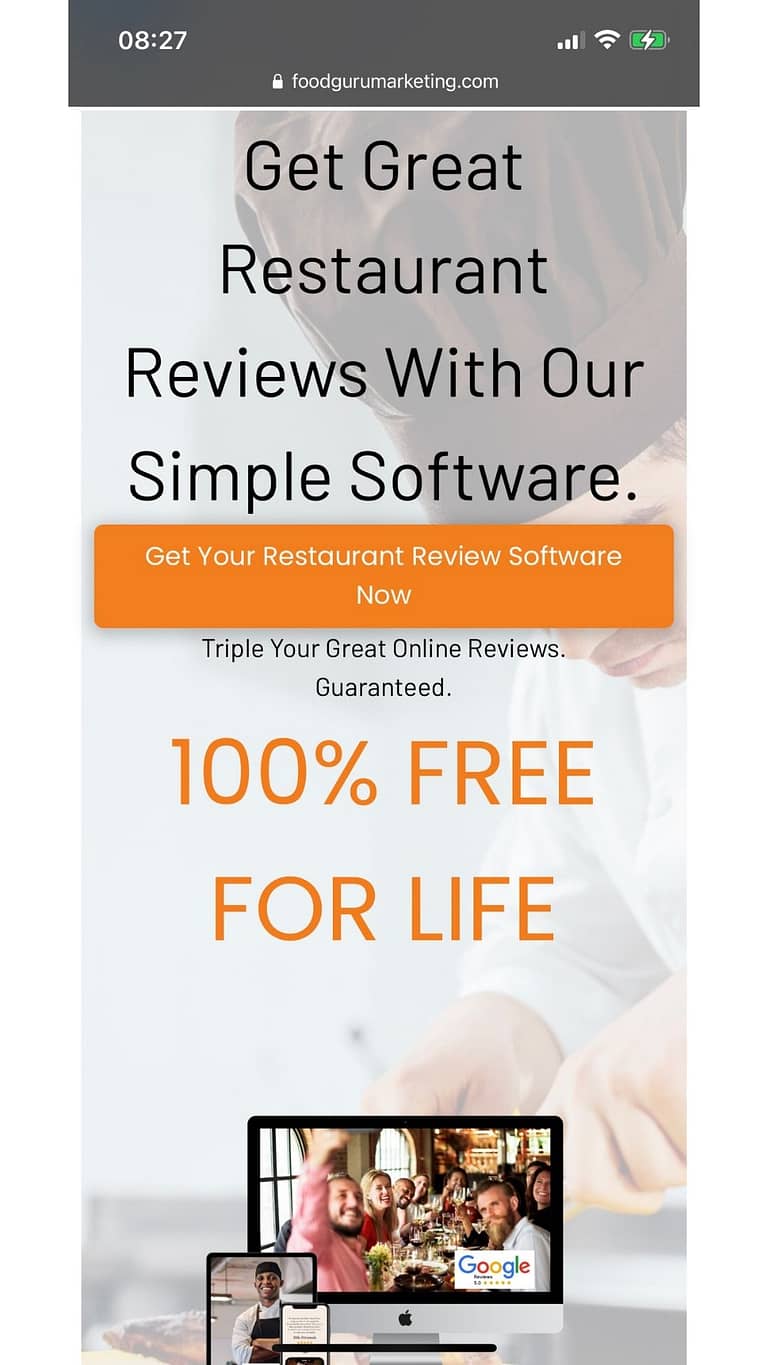 Chatammo Restaurant Edition
This complete marketing solution is a great way to collect your customer's email addresses and email either directly from the platform, using SMTP, which there are full instructions on using, or hooking up to another email autoresponder.
This means that you no longer have to worry about any of the technicalities of email marketing and instead let the software take care of everything for you automatically.
Groove.cm
Groove is a little different and is best if you are looking for a complete solution that would complement your chatammo account, as Groove comes with a considerable amount of software built right into it. This includes email automation, so it could be a great choice as you also have the option of building your entire website all within Groove.
Better still, Groove is designed to be search engine friendly, so you know that higher placements can reward your efforts within your local area on Google.
However, there are many other features, so it is certainly worth a look at the review of this software.
Activecampaign
Activecampaign, when reviewed, constantly comes out as the best email marketing software and can integrate with Chatammo directly, so a perfect choice all around.
When using activecampaign, it is possible to segment all of your users inside to make each promotion stronger for your subscribers, along with many other features.
Activecamapign can be used in your restaurant to grow your list and concentrate on your email marketing efforts.
These services offer exclusive advantages for restaurant managers and marketers. Restaurant owners and managers can boost email marketing ROI and create an email list of targeted customers with email marketing services. Specific features vary from service to service, but all email marketing solutions for restaurants include email templates and customizable email design tools to help create personalized emails that grab attention and encourage customer interaction.
Plan a schedule of email marketing campaigns
Scheduling your restaurant email marketing need not be difficult, with your general marketing going out to your email subscribers around once per week, starting with a welcome email.
But there is so much more you can do. For instance, there are public holidays or seasonal events such as Christmas, Easter, Spring Break Bank Holiday, the first days in Summer/April/Winter Black Friday/Cyber Monday, etc.
All of these can be taken advantage of and be used to show what your restaurant can do when it comes to your subscribers enjoying themselves within your restaurant.
Prepare your restaurant email marketing strategies once, and you can reap the rewards for years to come.
Use restaurant email marketing for engagement.
Email can be an excellent tool for building engagement with brands. It can motivate people towards your restaurant, but there are lots more options.
In cases where groups have discounts, they might share your email with friends or colleagues. Maybe you can organize a contest asking people to submit the most inventive cocktail recipe and offer to bring the most interesting to the restaurant.
Research other restaurants for inspiration
It's very useful to join email lists from restaurants if you have a similar taste.
Compare this to those sent to big-hit restaurants like Burger King Jamie's Diner or Wetherspoons.
By joining other restaurants email list you can see exactly what is working for them within the restaurant space meaning that it is so much easier for you to come up with your own ideas on what would make a great restaurant email marketing campaign, that would suite your style.
The more emails you read the more likely inspiration will strike you.
Take inspiration for restaurant email marketing strategies from social media.
Social networking offers an abundance of opportunities to market your products. In addition, social media users can easily understand various topic hashtags that come out.
You can use these ideas for email topics or promote your social networks through email.
You can also link to the email opt-in form on various websites. Whenever an email has an open rate, e.g., conversion rate, or segmentation you can quickly see who opens the email.
26 Inspiring Restaurant Email Subject Lines
One massively vital thing to bear in mind is your restaurant email subject lines when writing your emails. After all, we are getting more bogged down with emails now than ever before, so you need to think of subject lines that your subscribers would want to open.
This could be a heading that would create urgency, a funny remark, or a perk they will receive if they open the email. Something that just eat excels at.
How to Write a Successful Restaurant Email Subject Line
Make It Clear

. Don't expect the user to open the email to understand what you're talking about – unless you're going for the surprise effect. Tell them right away what the email is about.

Ask Questions

. Asking recipients a question is one way to make your email stand out. It may pique their interest more than a simple statement would.

Inject Humour

. Your restaurant email subject lines don't have to be amusing, but they don't have to be dry or uninterested either. It may be beneficial to read the environment first and see if the topic would benefit from a joke.
Inviting Restaurant Subject Lines
If you have a restaurant and organize events regularly, it would be a shame not to advertise them via email. The subject line should always include the name or type of event you're inviting customers to.
Use scarcity and urgency to encourage guests to open the invite. Here are some sample event and party subject lines.
[event name]: Don't miss out

Join us at [event name] – have a drink on us

Almost sold out! Reserve a table now at [event name]

Counting down to [event name]. See you there!

Mark your calendars: [event name, date]
Restaurant Promotional Email Subject Lines
When it comes to enticing consumers with a special offer or a discount, usually all that is required is for the deal to do the talking. After that, people will jump at the chance to benefit from it if it appears appealing enough.
It's more critical than ever to clarify that the offer is only for a limited time, and they should act quickly before it disappears. Take a look at these restaurant marketing email subject lines.
[deal]: Time is running out ends today

Only this Valentine's Day: [deal] at [restaurant name]

[discount] Save money for Christmas

Bring your family for [deal] Thanksgiving

Surprise gift [restaurant name]

TODAY only: 15% discount on [new menu item]

Hey, You forgot something, Here's [discount]

Happy birthday! Here's [deal] from [restaurant name]

Claim [deal] ASAP. Time is running out!

Happy hours start Friday at 3 pm. Don't miss out!
Restaurant Win-back Email Subject Lines
It's good policy to check in with inactive subscribers from time to time. Let's assume they used to read your emails, click on your CTAs, place orders over the internet using your online ordering system, and otherwise interact with your restaurant, but they're no longer there.
Sending a win-back email to them might be an excellent way to reconnect with them and reignite the flame before they go. So let's look at some restaurant subject lines that can get you back customers.
We miss you! Where have you gone

Don't leave a good thing behind… claim your [deal]

Let's catch up at [restaurant name, date]

Long time no see.

We don't want you to miss this: [discount]
Restaurant Closed Email Subject Lines
Not all restaurant communications need to be commercial. You might just want to inform your consumers about something or make an announcement that they would find interesting. For example, if your restaurant is closed for the holidays or any other reason, it's a great time to share the news with them.
Even though the subject isn't as open to the imagination as other topics, you don't have to make your subject line boring.
WE WERE ON A BREAK! We'll be back [date]

We're taking a nap until [date]

Happy holidays! We'll be back [date]

Merry Christmas! See you soon on [date]

We'll miss you… [restaurant name] closed until [date]
Restaurant Newsletter Subject Lines
Do you send out email newsletters to your customers at your restaurant regularly? As you are aware, the themes change from month to month (or week to week).
Let's suppose you'd like to inform consumers about new features like food delivery and pickup or a dine-in QR code restaurant menu. Perhaps you'd want to inform them about your health and safety standards.
We deliver! Place your order on our website.

New feature: QR code menu for dine-in guests

COVID19 health & safety guidelines – [restaurant name]

On our YouTube channel, we teach you how to cook.
Email marketing is a great way to expand your restaurant by bringing in new clients, retaining existing ones, and improving conversions.
To be sure, this will help you find the heart of your consumer.
Collect useful customer data
You must segment your list to deliver different kinds to different subscribers.
You can figure out which people are most likely interested in your restaurants by developing an exciting category list for each category.
You can ask people if a field is optional and personalize the email experience. For example, family members may want news about a child-eat free program and child meal specials.
Luckily You can do all of this via a simple QR code or many other ways using the chatammo restaurant edition.
Show off fresh and seasonal menu items.
With your restaurant email marketing in place, it is the ideal way to show new dishes introduced, along with older dishes that you are considering dropping.
If your restaurant offers seasonal dishes, it's a great idea to include the changes in your email marketing campaigns. As a restaurant owner, you aren't invasive in letting your customers know about changes but casually dropping the news in when creating emails.
.
To invite subscribers to your events.
Most restaurants organize an occasional party. When hosting events, it is advised to send email invitations to invite customers. This is a great way to build your restaurant's loyalty and make your subscribers feel special.
To build stronger customer relationships.
Use personalized promotion when using your restaurant marketing emails, as this will help you build your relationship faster and better still. It is almost no extra effort as if the customer data has already been gained from the likes of chatammo. You can automatically add names etc., to all of your email marketing.
Offer a coupon or discount to your clients to encourage them to visit the restaurant. In addition, make sure your customer receives an appreciation email after visiting your restaurant, which will also help you gain more all-important reviews for your restaurant.
Simple emails like that help increase the value of your business.
To promote deals
There isn't much as strong as your restaurant emails when promoting deals, so you should always take advantage of this.
A little more advanced is combining your restaurant email campaigns and your social media, which would mean more eyes on your social posts, and more exposure for your business due to the algorithms set up in social media platforms.
Used correctly, you can build constant contact, repeat business with your patrons, and increase new customers in synergy.
Create email capture landing pages
Before chatammo arrived, one of the best ways for restaurants to market themselves and collect the various information needed was by using a landing page. However, these restrict the user journey and make your digital marketing channel clunky.
However, putting chatammo at the heart of your restaurant marketing system then gaining email addresses is a pain-free journey for your customers to give their details.
Better yet, you can add to all of your social media accounts and gain even more information, perfect for increasing your business even further. An excellent example of this is by collecting your customer's birthday and running a special promotion for their birthday via a birthday email.
Convert Deal Seekers to Repeat Guests
Many restaurants use Groupon deals to draw customers to a venue. Still, many cannot develop strategies to further engage with customers, so they lose an essential chance of repeat customers.
The best way of collecting emails from these diners is through email – you will be better positioned to contact these segments of customers to return.
Groupon has admitted that most customers are "one-time customers." Therefore, the owners of restaurants today are needed to make an offer that brings these guests back, or they are simply losing money on their promotions.
Nurture loyal customers
Loyal customers are the backbone of any great restaurant, and with email marketing, you finally have the chance to increase engagement through your email campaigns.
Your restaurant email marketing strategy should always be focused on building your loyal customers and treating them as a VIP within your restaurant.
Many customers will eat in establishments that are well geared towards their needs and remember their identity when seated.
The loyalty system also offers the opportunity to add another email address to the growing list.
Follow-up Online Ordering Customers
You may also find the customers' email addresses when ordering from the restaurant. Then, when they enter their details for an order (provided you have something similar to chatammo), you can send the email address and further details directly to your email service provider.
This will help you quickly build a strong email list and result in some of the best email marketing campaigns.
Critical elements of your comprehensive email marketing strategy
Last year, the effectiveness of emailing during the epidemic. All marketing activities are evaluated based on Returns to Investors (ROI).
This includes what you invest in and receive. It has other aspects, notably the simplicity and speed of implementations. Email marketing will have significant results at meager direct costs despite the buzz surrounding social media marketing. All of it is in measurable numbers.
The money is on the list.
It's valuable that you can talk to people who already know you and understand your brand offer. Forrester released its report on how you can improve social relations by focusing on social media and promoting social media. Don't make Facebook central to the marketing of your relationships.
How can I build an email list for my restaurant?
If you want to create a restaurant email campaign, it's essential to create and grow your leads. And that means a more diverse audience of potential customers. Can you list your favorite websites? How can I start a mailing list for my restaurant?
Bottom Line
Email marketing can improve restaurant reputation and promote customer loyalty by creating a solid customer presence. The cost of email advertising in restaurants is very attractive. Another bonus tip is to find out when your week is up and use hashtags like #friedChickenFridays / #SpicySaturdays.
How do you write a marketing plan for a restaurant?
For your restaurant marketing strategy, all you have to do is put together essential aspects of your company plan in a way that translates into a concise, implementable restaurant marketing strategy.
Here's how to do it.
Solidify your brand.
Build a simple mission statement of what you want your restaurant to represent, including your value propositions, vision statement, and positioning statement.
Who is your target audience
Using the demographics for your area, write who is your target audience.
Look at your competitors
.
Who is your competition, and what are their strengths and weaknesses
Define your market differentiators.
What makes you different from the competition? Here, you should describe the advantages you have over your competition.
Build your elevator pitch.
An elevator pitch is a brief description of your restaurant to a stranger. Keep this in mind while developing the messaging behind campaigns later on.
Digital restaurant marketing strategies
Website and SEO

Content marketing

Social media

Email marketing

SMS text messaging

Review sites

Loyalty programs
Traditional restaurant marketing strategies
Direct mail

Contests and giveaways

Leagues and events
FAQ
Email marketing records return on investment in different industry sectors. The exact numbers vary, however, based on the survey mentioned above. For example, WebpageFX claims that the advertising channels gain $44.75 per $1 invested. In contrast, ChowNow reports $38 a month returns to e-commerce customers, and ChowNow reports a profit of $40 – $33.
How can a restaurant use email marketing?
The email service provider you use will have several email templates to choose from email marketing. But as a restaurant owner, you need to create an email template that works with your brand and sales funnel concept. Therefore, in addition to emails sent from the email service provider, it is better not to send emails directly through email marketing email templates.
What is the best marketing strategy for restaurants?
Email Marketing is one of the most powerful email marketing strategies for restaurants. Unfortunately, although email marketing is straightforward and cost-effective, many restaurant marketers fail to do it properly.
Effective email marketing requires a strategic email calendar. That means you need to block out time in your schedule and set aside several hours each week to create and send your email newsletter.
How can I get my email at a restaurant?
Gaining your customers s email is simple with many different ways to collect, instore you can use.
QR codes offer some kind of reward.

Simply ask if they would like to know about offers and add their email.

Wifi code you can collect the email address via giving your wifi code.
Outside of store.
QR code on the outside of the restaurant, showing the complete menu, which can also collect email.

Offering a reward or coupon code outside of the restaurant
How do you write an email to a restaurant?
It is massively important for your restaurant email marketing to have a great welcome email, as this will have your customers keen to see what your subsequent emails will hold for them.
Remember to use your subject line to get your emails opened in the future by using the examples above.
Why should restaurants use social media?
Even when using restaurant email marketing, it is essential to use social media. Your social media is an easy cheap way to reach your ideal customers, with Instagram alone having over 1 billion users regularly on the platform.
How often should Restaurants send emails?
Your restaurant email marketing strategies should include your subscribers getting your emails regularly. However, we aren't taking every day but rather a drip effect where your emails can arrive weekly and give plenty of entertainment and encouragement to revisit your restaurant.
What should an email campaign include?
Your email campaign should include your most exciting points about your restaurant. You can also include things such as menu ideas, polls, promotions.
Keep in mind your email subscribers want to hear from you, so include what you believe would keep them interested.
How do you conduct an email campaign?
Using email marketing software like what we discussed above will always bring great results. However, do not try and send your email campaigns manually. This has brought many owners within the restaurant industry misery and can lead to far too much work.
Once you have found the right email service provider from the list above, it is plain sailing from there.
What works best in email marketing?
Within your restaurant email marketing, the most success is found when you keep in mind people buy from people, don't be afraid to shower your personality throughout your restaurant.
What is the best promotion for a restaurant?
We have often found with restaurants that if the marketing efforts are built on a 50/50 mix of promotion and information, these tend to be the most successful within your restaurant newsletter.
How do I promote my service via email?
Simply start using one of the drag and drop email service providers. You will have your promotions on point and quickly gain traction within your marketing.
How do restaurants do marketing?
There are hundreds of ways which do your marketing. Our desire throughout this blog is to give you the very best so that you can implement not only marketing emails but also get a great flow going when thinking of restaurant marketing as a whole.