Instagram is a massive marketplace for restaurants, with over 1 billion customers using Instagram every day. What's even better there are many of these browsers in your area. This means that they are your prime customers. But of course, using Instagram for restaurant professionals can be difficult.
In this ultimate guide, We'll explore how to use this platform to attract new consumers and optimize the income of your current client base, and improve your restaurant marketing.
Instagram has a bit of a reputation as a magic bullet for restaurant owners, and it isn't surprising after all, food is a very visual thing, so Instagram is perfect for retaining existing customers, and of course, bringing new customers flocking into your restaurant.
Being seen on social media is an excellent method to stay top of mind with individuals who already like your brand and assist you in getting the word out about your restaurant to local customers.
That's why using Instagram for restaurant professionals is something you should try. If you don't, you will regret it!
However, most restaurants are not sure what to do on their Instagram account with the feeling that they're simply wasting their time because people won't pay attention.
If you're going to compete with over 1 billion individuals for attention, you've got to be the best of the best. And make sure your restaurant Instagram marketing is standing out when compared to local restaurants
What's the most appealing aspect? It's free to take advantage of, and you may train your staff members to perform it for you, resulting in a steady supply of new consumers. And better still, you can completely automate the process using Chatammo restaurant edition.
Here's your guide to it, based on the world's top-performing restaurants.
Why Instagram For Restaurants?
But first, there's one crucial question to consider: why should you care about developing your restaurant's Instagram presence?
There are several advantages to working with the platform. Some of them include…
Make more money. Instagram is a valuable tool for consumers looking to make dining reservations, which you can also automate.

Stay top of mind. If you want to get your customers back, you'll need to interact with them.

You are getting to know new consumers who enjoy eating at restaurants in your region.
24% of consumers check a restaurant's Instagram before making a reservation.
The best part? It can be one of the most accessible forms of marketing you are currently doing, even to the point of automating the entire process altogether.
I've helped restaurants go viral locally as a result of helping them increase their Instagram presence in the past. Furthermore, I've trained teams with no prior experience and know-how to use hashtags correctly.
It has taken years for me to learn on my own, but now that I have a firm grasp on Instagram marketing, I can pass those along…
By sending this guide over, you can have your staff thoroughly trained within Instagram and go a step further. You can automate from posting to complete dm and marketing. This guide gives you everything you need to succeed within the Instagram platform.
To make it clear, Instagram is the best social media platform for restaurants.
This is such an exciting platform for restaurants that I am getting excited for you to master these basics.
If you're ready to learn how to use it like the very best, read on…
Your Restaurant Profile
Let's begin with your profile since it is the portion of your page that will be most frequently seen and has the potential to shape how others perceive your company.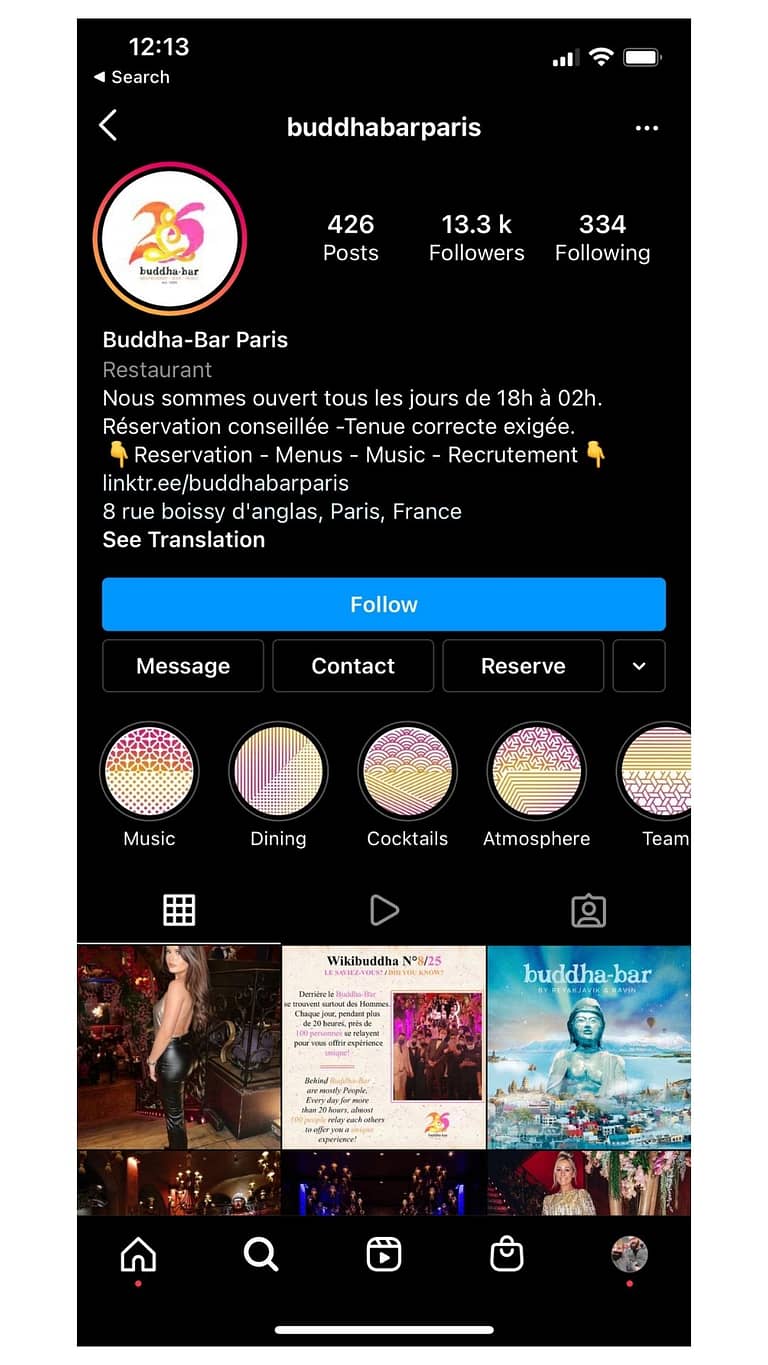 Restaurant Instagram Username
For your username, go straightforward. Choose a memorable username that is short, easy to spell, and doesn't use any unusual characters. Something like @tacobell or @dominos makes it easy for your subscribers to find and tag your restaurant into any of their posts, giving you even more exposure.
If you're searching for a restaurant name that's already taken, though, as they usually are – consider adding "restaurant" to the end of your username to improve your profile's performance.
DON'T use your business name and location because they'll make it difficult to remember.

If you have numerous locations, don't create separate Instagram accounts for each. It's better to focus your efforts on developing a single excellent profile for your business rather than several.
Why? Because, as you know, Instagram exposes your profile to a larger audience if it has a lot of interaction. This is how Instagram influencers amass so many followers. You won't get the Instagram benefits of having numerous locations if you don't concentrate your follower count on one account.
Profile Name
Please keep it simple. Call your restaurant's name your profile name.
Profile Picture
We'll keep things simple for your profile as well.
Set your profile photo to something other than your logo.
Contrary to what virtually every eatery does, we've put it to the test.
In our study of 5 different test restaurant Instagram accounts, profiles with beautiful food photos as their profile picture (rather than logos) had 28% more profile visits than those with the restaurant's logo.
Why is this? Making food your profile picture best expresses your primary value proposition to the market: delectable cuisine and a pleasurable experience.
Setting a logo as a profile picture may feed the ego for a restaurant and seem like a good "branding" exercise, but if we're only looking for attraction, it's time to swap out the logo for something more food-related.
But it's not like any regular old food photo. But one has been altered using the best performing style, which we will discuss later in this article in the Content area.
The style to choose is what is generating the most interaction. The method by which almost all food influencers go viral. The style that brands like Domino's Pizza and Shake Shack have discovered.
However, that will not happen for a long time. So in the meanwhile, take a fantastic photo of your signature dish and prepare to modify it to use as your Instagram profile picture to increase your account visits and revenue.
Instagram Biography
This is possibly one of the most essential parts of your Instagram presence and should be front and center within your Instagram marketing strategy.
Your Instagram Bio will single-handedly play the most significant part in your restaurant marketing inside of Instagram.
Many restaurants have a very long bio and, as a result, get punished by way of a reduced follower count.
As a simple trick, look at what the local influencers are doing and use that to design your very own bio.
You will find that most successful influencers will describe the features and have a solid call to action. We suggest using software such as chatammo restaurant edition to get your users off the Instagram algorithms and onto your messenger marketing, email, and SMS.
In English and particularly with restaurants, that means describing your restaurant's value proposition in simple terms before describing the advantage you would gain from choosing you.
We want to make a statement that will stay in your visitor's minds so something along the lines of 'The Best Italian Restaurant In New York.'
This introductory statement will, over time, help you gain more followers. All because of what is generally known as anchoring, your statement will stick in people's heads, and they are a lot more likely to remember your restaurant's Instagram marketing.
The studies on this are clear.
Once you've established yourself as the finest, you'll have more pricing flexibility and will naturally receive more followers, allowing you to make even more money.
It's lacking, however, in sharing the essential elements that consumers use to pick restaurants. Such as friendly service, fun experience, great food, and easy parking, so make sure you add a few of these into the mix.
It's also missing providing instructions for what to do next. And when you make people consider what to do, rather than simply providing a simple next step, people leave your page.
Using chatammo restaurant edition will solve that problem and directly link to dm your restaurant. In addition, you can turn on your automation to increase the interactions and increase your Instagram marketing further.
Business Account
Change your Instagram account into a business account to access the statistics that evaluate how well you're doing.
It is simple and free to change from Personal to Business. Navigate to your Instagram account on the mobile app, go to Account Settings, and select "Change To Business Profile."
It's that simple, and now not only do you have Instagram tracking your reach, but you will also have access to the advanced organic tracking within chatammo.
So the next obvious step is
Instagram Posts
Finally, we get to what Instagram is most famous for, and that, of course, is adding posts.
There are a few things to bear in mind, the what, when, and how you should be posting within the posting.
Let's spend a few moments and answer all of your questions based on the knowledge we've gained over the last five years through building numerous Instagram accounts. Are you ready to go?
First, it's imperative to remember.
Hashtags For Restaurants
Next, you'll want to utilize effective hashtags on each of your Instagram posts.
Hashtags will bring more interested folks to your page and eventually convert them into new customers for your restaurant.
So, what exactly are hashtags, and which approach is the best to utilize them?
Here are the top 5 performing hashtags on Instagram for restaurant marketing, which you should include in every one of your postings…
#restaurant

#food

#foodie

#foodporn

#instafood
In addition, you should include these hashtag types specific to your location…
#yourcity

#yourcityvariations

#yourstreet

#yourestaurantnamehere
It's critical not to include hashtags in the caption (because they're ugly and detract from your message) and instead post them in the first comment.
This will give you the same benefit as if the hashtags were in your title and the algorithm of having a comment on your post.
You can use apps like Chatammo to schedule your posts in advance.
Get Your Timing Right
You must schedule posts promptly. Specifically, you must choose the highest engagement hours for your restaurant type when scheduling your posts.
According to research, the best hours to post on Instagram for engagement are between 1 p.m. and 10 p.m., Monday through Thursday. 
Use these times into your timezone to show your postings to the maximum amount of Instagram users.
Sunday: 3:00 PM

Monday: 5:00 PM

Tuesday: 6:00 PM

Wednesday: 3:00 PM

Thursday: 3:00 PM

Friday: 4:00 PM

Saturday: 11:00 AM
Use chatammo to post at the optimal engagement hours automatically. As a result, more views on your article equal more followers and add new customers for you – for the same amount of time.
Timing is everything.
There have been several studies on this. For example, on Instagram, people are most active and engaged during these hours, making for viral content.
Visual Content
Now let's get your creative juices flowing and start posting some content.
The most crucial aspect of your material is to focus on sharing emotions.
"What's that?"
According to psychological research, certain feelings encourage people to share content and take more action, which we are trying to achieve with your Instagram marketing.
Instagram users react to the most viral emotions are awe, wonder, and excitement.
So, by cultivating your material around these sharing sentiments, you can virtually assure increased exposure and awareness in your market.
So sharing a great food photo can bring wonder to your Instagram, share photos of your team going about their daily tasks, produce awe, and share photos of any upcoming events that you may have planned, which will increase excitement.
What should I post on Instagram for a restaurant?
As with all salespeople, they buy from people, so use this to your advantage over the big faceless restaurants. Be human and show your vulnerability, which will help your customers relate to you.
Photographing Food
Nothing is as gratifying as seeing a delicious steak or a delectable pizza on Instagram.
Focus your Instagram presence on having excellent food photography, and watch them go viral, giving you more exposure for minimal effort.
This means you should be taking many photographs of your great food and preparing them for comments; the photographs can be tidied up using chatammo, so don't panic if your iPhone photography skills don't make you look like David Baily.
Always make sure you have great captions to go along with your food, which will give them a little viral push. (we have included some of the best within our chatammo restaurant edition to help you along).
Behind The Scenes
People prefer to buy from people. And, as we all know, showing your most valuable asset, your pleasant and inviting staff, is a fantastic approach to both attract new consumers and increase client visits with existing ones.
Take some photos of your staff in action. 
Take pictures of your servers working hard to provide a fantastic customer experience. 
Take photos of your chefs preparing each meal to perfection. Take pictures of your manager interacting with visitors and ensuring that their visit is memorable.
Your team doesn't have to be made up of just supermodels, either. People who appear average are more relatable to potential customers and support the creation of a more genuine and authentic connection.
We've now covered food photos and team photographs to include in your Instagram marketing, but there is one more type of post that gives vast engagement.
Giveaways And Competitions
Instagram giveaways and competitions are an excellent method to connect with your audience, create word-of-mouth consumers, and increase brand loyalty among your existing fan base.
Just set up an irresistible offer.
I've seen a few of them in the past that work effectively… Here are some examples I've come across:
Free All-You-Can-Eat For One Year
Free Pizza
50% Off All Food For 1 Week
Regardless of the product, giveaways create excitement among consumers and induce friendly rivalry. So a great way to run them within your Instagram marketing is.
Select a prize that your viewers would love to receive.

Write a creative giveaway caption to encourage customers to comment

Make the rules that they need to tag three friends to win.

Connect your Chatammo restaurant edition to the giveaway, which will build your retargeting quickly.

Select a winner. This is best recorded and posted so everybody can see it was fair.
We've seen restaurants create over 1000 new customer possibilities by providing simple freebies like the one above. They're also the greatest posts to boost your local community since they're so appealing to everyone, but we'll discuss it later.
The Look Of Your Instagram Account
What if the most popular food accounts on Instagram, as well as restaurants and influencers alike, all had a similar style to their success?
The great news is they do, so all we need to do is understand, and use it in your restaurant.
Better yet, it comes down to a simple filter, which will take your shots from good to great.
So, here's how to do it for your restaurant photographs. It's straightforward and doesn't need a lot of editing or Photoshop skills.
Follow these steps to get started.
You can use the "rule of thirds" and a square aspect ratio (available in Snapseed) to draw attention to the best part of the photo.

If it's a single-dish photo, crop tightly around almost the entire food if possible.

Crop to accentuate the foods of several dishes if it's a multi-course presentation.

If it's an ambiance photo, use your best judgment.

To optimize Snapseed, please follow these settings:
Brightness +10

Contrast +13

Saturation +18

Ambiance +10

Warmth +7
Save to your camera roll and upload to your Instagram account.
User-Generated Content
This is a powerful technique for engaging your audience, gaining new consumers, and strengthening your existing customer relationship.
Even better can be set up automatically straight from your chatammo, which will constantly look for posts that you have been tagged in and reward the poster.
Then use this shot that the poster has added, crop, and repost, making sure to tag the original poster. People love to see their shots reposted and will begin to feel like one of your restaurant family.
If you go about it this way, they get exposure for being mentioned on your page, and you receive them talking to their friends about how fantastic you are for having recognized and shared their fantastic experience.
Short Captions
Next up is, of course, the caption.
The caption is an excellent opportunity to tell your tale with words rather than pictures and should be used to do so.
A story hints at what customers may anticipate from you and your company.
A video of a beautiful meal, called "prepared with love," might be as basic as it gets.
The story has an essential role in connecting you as a human being, as we keep mentioning people buy from people.
Always remember that every post that you add should be to connect.
That means that your post and your caption should be intended to connect.
It's simple to link up on a shared enjoyment for outstanding cuisine or an equal appreciation for your hardworking team.
So the important part is to connect as a human being.
Ask Questions
Social media is a two-way communication channel that allows for discussion and interaction.
It's not only a megaphone, like a television. It's a place to socialize and share information.
Ask your audience intriguing, relevant questions that are connected to your restaurant.
For example, asking your audience, "what are your favorite toppings?" when uploading a photo of one of your delicious, plain cheese pizzas is an excellent idea.
You are improving the know like and trust factors important within your Instagram posts.
And so drive even more engagement.
According to the algorithm, the more likes and comments a photo receives, the more people see it on Instagram. And not just anybody; instead, they're like-minded individuals who would love your restaurant as well since they're similar to those commenting.
Reply To All Comments
One of the most prominent Instagram marketing tips is to keep replying to all comments that you receive.
It's a must-have for your Instagram success.
Yes, you must constantly respond to all your Instagram posts if you want to use the platform to generate money. And, if you don't want to do it yourself, hire someone on your team who will. Or simply switch on comment reply from chatammo.
Why is it so vital? Because not only does it boost consumers' feelings about your business and provide them with a personal stake in your success, but it makes them feel important.
Taking polls on your material, or even asking your readers questions, is a fantastic approach to connect with them.
It can also help you gain more exposure. As a result, you'll have more new followers.
And, more significantly, there are many more potential clients for you.
You get rewarded on Instagram for having highly active content. They assess involvement by counting likes and comments on each post.
You can gain more likes and comments by eliminating spammy promotional material from your profile. Not only will it show your post to more individuals, but also strangers who have no connection to you or the organization will see your profile because these likes and comments suggest that people find your restaurant interesting.
If Instagram isn't intended to provide users with engaging and informative content, what is its goal?
Instagram Stories For Restaurants
If you're someone who pushes themself to the max in everything they do, Instagram stories will be the perfect fit for you.
Stories are short-term, 24-hour postings that help you gain more exposure.
Why is it so crucial to you that people remember you? Because they keep you at the top of people's minds who are, by definition, bored, hungry a few times each day as humans.
Why not make it part of their job description for employees to tell exciting and engaging stories in exchange for a piece of the action? You're already paying a large team of workers – from waiters to chefs to supervisors – so why not get the most out of them by including telling stories as part of their employment description?
As for Instagram story content, follow the same posting standards as before, but vary the stories and post them daily. It's also possible to submit short films demonstrating your fantastic setting using stories. Get creative with it!
Stories are a simple, straightforward, and low-cost method to remind everyone who has ever cared about your company about its existence. And it's fantastic, but it also adds a little bit of work. So first, you must ask yourself if staying top of mind constantly plus being on their Instagram feed is worthwhile for you.
We are betting it is when you see the increased returns.
Upload photos of your lovely restaurant and save them as "highlights."
Highlights are essentially permanent (not 24 hours) Instagram stories that allow people interested in learning more about your restaurant to view them.
I've seen some restaurants figure out incredibly inventive methods to put these to use and make the most of their Instagram's potential.
One of the most creative strategies to use highlight to show off your restaurant's excellence is to develop an Instagram highlight called "Tour." 
Then, put up some lovely photographs and videos of your excellent venue and pleased clients. They may virtually tour around while looking at your Instagram account to understand the ambiance better.
Instagram Influencers For Restaurants
It can be a touchy subject when talking about Instagram influencers. Still, being honest, there are many good ones out there, and by using local influencers correctly, you can catapult your restaurant from zero to hero in next to no time.
The people and Instagram account with many followers are known as influencers.
In the case of eateries, food influencers are ideal (since their followers are comprised of dedicated food enthusiasts searching for the finest restaurants to visit).
Which is excellent news. In a recent study, 40% of people under 24 trust influencers' recommendations more than they trust friends.
Many Instagram food influencers will post for a free meal at your restaurant.
All you have to do is inquire and offer a delicious meal in return.
What's the best part? You get free, high-quality pictures for your restaurant.
But of course, you need to find the best influencers out there, so let's look at what would make a significant influencer for your restaurant.
How many people, on average, like their posts

Take their most recent nine postings (not including the current one) and calculate the average likes and comments. Don't hire them if they're not getting more than 500 likes AND 10 comments on each post on average. To begin with, they aren't strong enough, so there's no use in anything else.

How much do they charge?

There's no such thing as a free lunch. If you can get prominent people with more than 500 followers and ten comments to come to your restaurant and post for free, they're worth comping a meal.

Where are they based? If you are a local restaurant, you want local influencers and followers.

Location
How should a restaurant use Instagram?
Post frequently and build a following
While it's easy to think that posting once per month is enough, the most successful Instagram accounts to post about 4-5 times per day.
The New York Times studies show that posts with less than 10% of their audience reach will get you more engagement than those with no fans at all. It's best to keep it simple by posting a combination of pictures and videos.
What should I post on Instagram for a restaurant?
You want people to know what you're all about. Of course, that involves showing off your food and location, but it also includes sharing the story of your restaurant.
Conclusion
Congratulations on having everything it takes to master Instagram for your restaurant.
In other words, you're the top 1% of people who were clever and hardworking enough to capitalize on this incredible opportunity. Therefore, you truly deserve to progress and outperform your rivals.
It's not down to you to take action, maybe you want to do it all manually, or maybe you want to automate and grow faster. Both can be simple things to do, but most important is that you start as soon a possible.
Take action now, and we would love to hear all about it in the comments.