Instagram automation: what it is and how to do it right?
With Facebook opening up its APIs to Instagram, there has been a lot of talk around Instagram automation, and Chatammo is leading the way with its automation.
If you are using another chatbot on Instagram, there might be a few of these features missing. However, when using Chatammo, there are so many more features that you can automate, so let's go through exactly how you should do that.
Why you should be on Instagram
Instagram is a fantastic platform with so many benefits it's hard not to be using Instagram for your business. However, with over 2 billion active users out there, many of which are based in North America, you could be missing out on valuable leads if you're not on Instagram.
An estimated 200 million businesses are currently using Instagram, which will only continue to grow in time, so make sure your business is one of them! This could be great news for your business if you take advantage of the opportunities afforded by the platform.
Now that Facebook has opened up its APIs to connect with Instagram, it makes it easier and more efficient to manage multiple accounts and groups of followers. So many businesses are now migrating over to Instagram as we see it becoming more popular than Facebook itself, so make sure your business is one of them!
The features you can automate with Chatammo for Instagram
The beauty of Chatammo is that you can automate so many features and even add your custom code to automate extra features.
Such as.
Auto-post

Auto-comment

Auto-reply
Integrate Your Chatbot To Instagram
Chatammo is one of the trusted chatbot partners that Facebook has granted permission to Instagram and Facebook. Still, to get you started with your Instagram automation first, you need to link chatammo and Instagram.
The first thing that needs to be done is to change your Instagram to a business account.
What Are The Benefits Of A Business Profile
An Instagram business profile appears to be a private club, but anyone can join.
It's free to open an Instagram business account, and there are no specific standards for followers or material.
But there are also hidden advantages to having your Instagram as a business account.
#1. Instagram Bio Upgraded
Instagram is an excellent tool for entrepreneurs. However, personal profiles look different from business ones, with the chance of adding industry labels like "Tattoo" or "Beauty."
With a business profile in place, you also have the opportunity to add contact information. The important information you should be adding is Chatbot (chatammo works best and has the most features), phone number (if required), and business address (if needed).
Your Chatbot can be added as a call to action and help you get away from the dreaded Instagram algorithm and start building your following with a list you own.
#2. Schedule Posts
Instagram business accounts can plan and schedule posts ahead with the aid of third-party scheduling software like chatammo.
Planning ahead of time can go a long way in ensuring that your audience is engaged throughout the day, not to mention saving your social media team some time.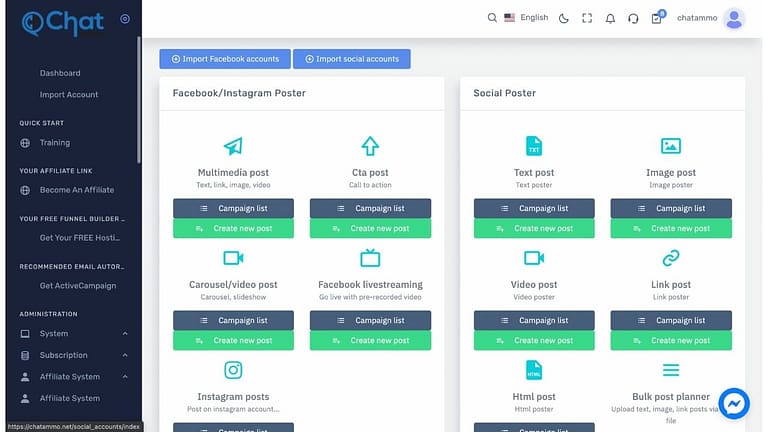 #3. Instagram Insights
They say, "Knowledge is power." But then, Business Profiles are the most powerful because they're overflowing with data thanks to the Insights feature.
When you use Insights, you get a comprehensive analysis of profile views, reach, impressions, clicks, demographics, and activities about your audience.
Chatammo takes this even further with a massive amount of organic traffic information built into the dashboard.
These metrics give you an excellent opportunity to grow your profile by what has been successful and what hasn't performed as well. By checking your profile, you will know if you are hitting what your target audience wants.
#4. E-commerce
Instagram shops are a reasonably new offer from Instagram. However, Chatammo is taking that to a whole new level giving you the chance to build your e-commerce empire that runs perfectly, with 11 payment gateways and every currency freely available.
#5. Advertising Options
Do you want to give your message a little more power? Instagram advertising services are available to business accounts.
Plan a campaign of posts or stories to drive traffic or conversions, build your following or spread brand awareness.
#6. Create quick replies
"Quick Replies" is a function available to business accounts. This enables you to construct standardized replies and attach them to a simple word.
However, with your Chatbot in place, you get quick replies and complete automation throughout your entire process.
So let's get those accounts connected so you can begin to monetize your Instagram.
Connect Instagram Business account with Facebook Page:
First of all, head to the Settings of your Facebook page.
Next, choose Instagram menu from the left-hand side menu.
To begin, go to your Instagram account and click the Connect Account link. Next, connect your Facebook page with your Instagram business account.
Import Instagram business account with Chatammo:
You have now connected your Instagram and Facebook pages. Next, go to Import Account within the left-hand menu of chatammo.
Click the 'login with Facebook' button.
After that, you'll see your Instagram business account under-connected Facebook page.
Enable Bot Connection by clicking the enable bot connection button. You won't see your Instagram account in the Chatammo instagram features section if it's not enabled.
Auto Comment Reply with Chatammo:
There's also a menu called Comment Automation for Instagram under Facebook's Comment Automation Menu.
Once you have clicked on details you will be presented with another page where you can add your comments to each post that you have added.
Now you can begin to add templates ready for your automated replies, to make sure that the Instagram algorithm doesn't mark your post down give several different replies.
This will keep your content fresh and boost your ratings within the algorithms.
We can now head over to automate campaign.
When you click on detail this is where you will be able to tag the posts you would like to comment and reply on making this a very important page.
Once you have this display, you will notice that there is a small cog icon, when this is clicked you can add the automation to your post.
By clicking the cog under the post you would like to leave auto-comments on, you can now choose if you would like to use a pre-saved template.
Or would like to make a new template on the fly.
Well done you have now automated your comments.
I would however use this sparingly, after all, you don't want to be automating every comment, as this will spoil your reach on posts. I personally like to use this on boosted posts. Or where there is a large number of comments so that I can free up time.
As well as auto-comment we can also set up an autoreply. 
This means when somebody leaves a comment on our selected post we can instantly send them a dm, using chatammo. 
By following the instructions above for auto-comment you can set up a template for your auto-replies.
But here I will show you how to do this on the fly.
So let's get started.
Using automation campaign again we can again click on the cog icon and you will be presented with the auto-reply.
Within this section you can choose if you want to send a standard reply or alternatively, you can send keyword related replies.
After you have filled out your reply, simply press submit and save as a template.